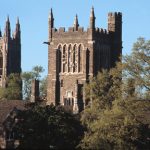 A Trump administration review of the Obama administration's Clean Power Plan, which sets state-by-state carbon reduction targets for power plants, is expected to be finalized this fall, said the U.S. Environmental Protection Agency (EPA) in a court filing last week.
The EPA was expected do away with the signature climate regulation, which the Supreme Court stayed in early 2016 and which would require the U.S. electricity sector to cut its carbon dioxide emissions by up to 32 percent, from 2005 levels, by 2030. But, according to Politico, the Trump administration has suggested that it might consider a replacement at the urging of power companies fearful that a repeal could trigger courtroom challenges that would lead to years of regulatory uncertainty.
If, for reasons of regulatory certainty and legal prudence, the Trump administration does conclude that some limits on the plants' carbon emissions are a good idea, The Hill reports that the regulation is likely to focus solely on carbon reductions that plants can achieve, mainly by improving the efficiency of coal-fired generators. By contrast, the existing rule ordered reductions based not just on efficiency gains but also on use of relatively low-carbon power sources like natural gas as well as renewable fuels. Hence carbon reductions achievable through a Trump rule would be much lower than former president Barack Obama's rule, and emissions might actually rise if efficiency gains discouraged the closure of coal plants by making them cheaper to operate.
If the Trump administration does move to repeal the Clean Power Plan, it will have to change the cost-benefit calculus to justify the move, reported ClimateWire (subscription). According to the Obama-era EPA, every $1 spent on compliance might buy $6 in benefits, in part by averting premature deaths and health problems. The Trump administration's cost-benefit analysis, promised last March as part of its announced review of the rule, could telegraph how it might recalculate the benefits of curbing climate change as it moves to eliminate other Obama-era regulations.
Announcement of the Clean Power Plan review's finalization came as officials from the White House's policy councils and representatives from federal agencies, including the EPA and the U.S. Department of Energy, met to begin plotting a climate and energy strategy, one aimed at new policies that break from the Trump administration's extensive efforts to repeal climate regulations and to push back on the public perception that the administration doesn't support climate change science, a perception reinforced by EPA Administrator Scott Pruitt's launching of a critique of the validity of that science.
"This was a forward-looking meeting on strategy and how to prioritize the administration's climate goals and objectives moving forward," said an administration spokesman said. "This particular meeting was more big picture strategy." The purpose was to bring together "a whole group of stakeholders … that are involved in climate issues and looking ahead to what policy initiatives we may put in place."
Nevertheless, on Monday the EPA announced that it is preparing to submit a final report to the White House on rules that are ripe for repeal because they may burden fossil fuel production and use—a report required of all federal agencies by Trump's March executive order on regulations, E.O. 13783, and by subsequent Office of Management and Budget guidance.
Ontario Joins California and Quebec in Carbon Market
Ontario joins California and Quebec in their cap-and-trade program, which aims to reduce greenhouse gas emissions. Announced on Friday, the agreement, which takes effect Jan. 1, creates the world's second largest carbon market behind the European Union's market.
"Climate change is a global problem that requires global solutions," said Kathleen Wynne, premier of Ontario. "Now more than ever, we need to work together with our partners at home and around the world to show how our collaboration can lead to results in this international fight. Today's carbon market linking agreement will add to the success we have already seen in reducing greenhouse gas emissions in Ontario, Québec and California. We are stronger together, and by linking our three carbon markets we will achieve even greater reductions at the lowest cost."
The system puts a "cap" on the amount of pollution companies in certain industries can emit. If they exceed those limits, they must buy allowance permits at auction or from other companies that come in under their pollution limits. Linking the carbon markets means participating companies will be able to use carbon allowances and offsets issued by any of the three governments at their quarterly auctions. The addition of Ontario significantly expands the allowance market, according to California Air Resources Board spokesman Stanley Young.
"Ontario's market is roughly 40 percent to 50 percent the size of California's carbon market," he said. "Quebec's is 15 percent of California's."
Transportation Emissions under Microscope
The Federal Highway Administration announced that the 2016 Transportation Clean Air Rule, which requires state and local planners to track and curb pollution from trucks and cars on federal highways in their jurisdictions, goes into effect today.  Legal pressure following a Trump administration announcement, in May, to "indefinitely delay" the rule earned its reinstatement.
With the rule back in place, the Federal Highway Administration can resume working with state and local planners to find transportation options that reduce greenhouse gas emissions by the first compliance deadline of October 2018.
Originally finalized days before President Donald Trump's inauguration, the rule requires state and metro transport agencies and planning organizations to track carbon dioxide emitted by vehicles traveling on the national highway system. The agencies also must set two-year emissions-reduction targets, four-year targets, or both, and they must periodically report on their progress.
A Federal Register notice indicates that the Trump administration will still propose a rule repeal by the end of the year—possibly finalizing it in spring 2018.
Some states, including California and Massachusetts, already require highway planners to consider the climate impacts of roads. For California in particular, history, legal precedent and regulatory defiance has given the state the unique authority to write its own air pollution rules and set its own auto emissions standards. For now, the federal waiver allowing California to set these standards will not be revoked, according to U.S. Environmental Protection Agency Administrator Scott Pruitt. It appears California may re-open discussions on its greenhouse gas limits for cars and trucks for 2025 if automakers and the Trump administration embrace tougher targets that the state is seeking for later years.
"The price of getting us to the table is talking about post-2025," said Mary Nichols, chair of the California Air Resources Board. "California remains convinced that there was no need to initiate this new review of the review and that the technical work was fully adequate to justify going ahead with the existing program, but we're willing to talk about specific areas if there were legitimate concerns the companies raised — in the context of a bigger discussion about where we're going post-2025."
The Climate Post offers a rundown of the week in climate and energy news. It is produced each Thursday by Duke University's Nicholas Institute for Environmental Policy Solutions.