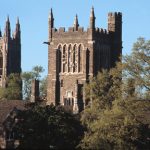 Last week's Republican debate drew opinions of several candidates on climate change, namely on how government action to address the problem will hurt the economy. During the four-minute exchange, Florida Sen. Marco Rubio and New Jersey Gov. Chris Christie dismissed the idea of enacting former Secretary of State George Schultz's proposed "insurance policy" to guard against global warming risks such as sea-level rise.
When debate moderator Mark Tapper asked about the insurance policy, Rubio responded, "Because we're not going to destroy our economy the way the left-wing government that we are under now wants to do," and Christie said, "I agree with Marco. We shouldn't be destroying our economy in order to chase some wild left-wing idea that somehow us by ourselves is going to fix the climate."
Rubio said he's not a climate skeptic but that he opposes policies to reduce emissions that he believes will hurt the U.S. economy and fail to affect global temperatures. He suggested that there is little point in the United States reducing its emissions because "America is not a planet."
Wisconsin Gov. Scott Walker, who suspended his campaign on Monday, concurred with Rubio and referenced the U.S. Environmental Protection Agency's Clean Power Plan to reduce carbon dioxide emissions from power plants, although not by name.
"I'm going to echo what Senator Rubio just said," the governor said. "This is an issue where, we're talking about my state, it's thousands of manufacturing jobs. Thousands of manufacturing jobs for a rule the Obama administration, its own EPA has said will have a marginal impact on climate change."
Christie went on to say that "massive government intervention" to deal with climate change is unnecessary, and that New Jersey had already reached its clean air goals for 2020. But ArsTechnica noted that he did not mention that state's renewable energy standards, net metering, and solar renewable energy credits all required government intervention.
Christie did note that he'd taken New Jersey out of the Regional Greenhouse Gas Initiative, a now nine-state emissions trading arrangement recently shown to have generated both emissions reductions and economic benefits. Carbon allowances sold by the initiative have just set a new record high. Participating states will use the revenues for energy conservation, renewable energy, and direct bill assistance programs.
Pope Visits United States; Talks Climate Change
The day after arriving in the United States for a six-day visit, Pope Francis acknowledged, in a brief speech at the White House, efforts by the Obama Administration to curb carbon emissions.
"Mr. President," Francis said in English, "I find it encouraging that you are proposing an initiative for reducing air pollution. Accepting the urgency, it seems clear to me also that climate change is a problem which can no longer be left to a future generation." He added "To use a telling phrase of the Reverend Martin Luther King, we can say that we have defaulted on a promissory note and now is the time to honor it."
The papal visit follows the release of his encyclical on the environment, and Francis's talks about climate change during the visit may very well touch on the concept of carbon markets. The encyclical says markets are "not good" for rationing natural resource use. "This is where many economists who study environmental markets and carbon markets might take exception to the pope," the Nicholas Institute's Brian Murray told American Public Media's Marketplace. He said markets to limit carbon emissions do curb those emissions, and he attributed the Vatican's negative view of markets to a failed attempt to use them to go carbon neutral, which used carbon offsets from a voluntary action that did not materialize. A market driven by an enforced cap on emissions, however, would not produce the same risk of failed reductions.
Today, Francis became the first pope to address a joint session of Congress. On the topic of climate change, Pope Francis addressed the divided Congress: "We need a conversation which includes everyone, since the environmental change we are undergoing, and its human roots, concerns and affects us all."
He echoed words in his June encyclical, calling for "courageous and responsible effort to 'redirect our steps' and to avert the most serious effects of the environmental deterioration caused by human activity," Francis said. "I am convinced that we can make a difference and I have no doubt that the United States—and this Congress—have an important role to play … Now is the time for courageous actions and strategies, aimed at implementing a culture of care and an integrated approach to combating poverty, restoring dignity to the excluded, and at the same time protecting nature."
Reports: Carbon Pricing Schemes Gain Momentum
The World Bank reports that around the world carbon pricing schemes have nearly doubled (from 20 to 38) since 2012, and the Carbon Disclosure Project (CDP), a non-profit that gathers environmental data for investors, reports that the number of companies putting a price on their greenhouse gas emissions for internal planning in 2015 almost tripled (from 150 to 437), with the biggest increase in Asia, where China is slated to launch a national carbon market and South Korea has just introduced one.
According to the CDP report, companies said that carbon prices create incentives for energy efficiency projects and switches to less-polluting fuels. In the United States, utilities cited expected emissions costs as motivation for low- or no-carbon generation investments
The World Bank study estimates that carbon pricing instruments cover about 12 percent of all greenhouse gas emissions and that the combined value of those instruments in some 40 nations and 23 cities, states, and regions is $50 billion a year—$34 billion from markets and $16 billion in taxes. It showed that carbon prices, ranging from less than a dollar a ton of carbon dioxide in Mexico to $130 a ton in Sweden, are for the most part "considerably lower" than needed to help limit temperature rises to a United Nations goal of 2 degrees Celsius above pre-industrial times to avoid the most devastating effects of climate change. Nations gather for international climate negotiations Nov. 30 to Dec. 11 in Paris—a meeting intended to produce a deal that would commit all nations to reducing greenhouse gas emissions in the hopes of meeting this goal.
The study notes that ex-post analysis of the European Union Emissions Trading System, presently the world's largest cap-and-trade system by traded volume, has not led industries to move to jurisdictions with comparatively low emissions costs on any significant scale but that the risk of carbon leakage remains as long as carbon price signals are strong and differ significantly among jurisdictions. According to the study, this risk, affecting a limited number of exposed sectors, can be effectively mitigated through policy design.
A parallel report by the World Bank and the Organisation for Economic Co-operation and Development, with input from the International Monetary Fund, identified new principles for carbon pricing that it called FASTER: Fairness, Alignment of policies and objectives, Stability and predictability, Transparency, Efficiency and cost effectiveness and Reliability and environmental integrity.
Last week, the European Union urged UN envoys to adopt international carbon market rules and emissions accounting systems by 2017. Negotiations on such systems are not expected to progress far at this year's climate summit in Paris.
The Climate Post offers a rundown of the week in climate and energy news. It is produced each Thursday by Duke University's Nicholas Institute for Environmental Policy Solutions.