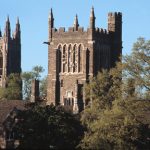 World leaders gathered in New York this week for the United Nations Climate Summit, a meeting aimed at raising carbon reduction ambitions and mobilizing progress toward a global climate deal. In speeches at the summit, President Obama and other leaders recognized that countries across the world are feeling climate change effects, particularly extreme weather.
"In America, the past decade has been our hottest on record," said Obama, who also announced the launch of new scientific and technological tools to increase global climate resilience and extend extreme weather risk outlooks. "Along our eastern coast, the city of Miami now floods at high tide. In our west, wildfire season now stretches most of year. In our heartland, farms have been parched by the worst drought in generations, and drenched by the wettest spring in our history. A hurricane left parts of this great city dark and underwater. And some nations already live with far worse."
Like Obama, representatives of other major nations had their own news. The European Union unveiled a commitment to reduce greenhouse gas emissions 40 percent from 1990 levels by 2030, and China shared plans to set aside $6 million for U.N. efforts to boost South-South cooperation on global warming.
Other summit outcomes included a commitment by several countries and nearly 40 companies to support alternatives to deforestation, ending the loss of forests—which accounts for 12 percent of all global greenhouse gas emissions—by 2030.
"Forests represent one of the largest, most cost-effective climate solutions available today," the declaration said. "Action to conserve, sustainably manage and restore forests can contribute to economic growth, poverty alleviation, rule of law, food security, climate resilience and biodiversity conservation."
More than $1 billion in new financial pledges were made to the Green Climate Fund, which was established at the 2009 Copenhagen Summit to help developing countries ease their transition away from fossil fuels and fight climate change.
The climate summit came on the heels of news that many countries are missing their emissions targets and that avoidance of runaway climate warming is slipping out of reach. A report by the U.N.'s Intergovernmental Panel on Climate Change that says the world is dangerously close to no longer being able to limit global warming to 2 degrees Celsius above pre-industrial levels—the threshold the U.N. declared as necessary to avoid dangerous consequences of climate change. Another study published Sunday in the journal Nature Geoscience put 2014 world carbon emissions at 65 percent above 1990 levels and further suggested that the U.N.'s two-degree Celsius goal was becoming unobtainable.
Obama Announces New Solar Efficiency Measures
The White House announced new steps intended to increase deployment of solar and other energy efficiency measures to cut carbon pollution by nearly 300 million metric tons through 2030. The efforts are predicted to save $10 billion in energy costs.
Among the measures:
The Transition to Clean Energy
Despite these clean energy plans, data from the U.S. Energy Information Administration shows just how far the United States is behind Europe in its pursuit of non-carbon electricity.
"While most of the countries that produce at least half of their power from zero-carbon sources rely heavily on nuclear and hydroelectric power, the U.S. has been slow to convert its power sources to renewables like wind, solar, or biomass," Slate reports.
A new report suggests Canada's investment in clean energy is lagging—with the country spending $6.5 billion in renewable energy transition last year compared to the $207 billion spent worldwide.
"While other economics have made clean-energy industries and services a trade priority, some of us cling to the notion that our carbon-based fuels constitute our only competitive advantage," the report says.
In the U.S., states like New York have plans to grow their clean energy contributions. New York State Energy and Research Development Authority submitted its plan for a new Clean Energy Fund—roughly $5 billion to grow clean energy programs in the next decade by continuing a utility bill surcharge.
The Climate Post offers a rundown of the week in climate and energy news. It is produced each Thursday by Duke University's Nicholas Institute for Environmental Policy Solutions.