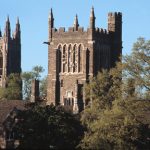 Editor's Note: While Tim Profeta is on vacation, Jeremy Tarr, policy associate in the Climate and Energy Program at Duke's Nicholas Institute for Environmental Policy Solutions, will author The Climate Post. Tim will post again August 28.
The Climate Post will also take a break from circulation August 7 and will return August 14.
A new report from the White House Council of Economic Advisers finds that for each decade of delay, policy actions on climate change increase total mitigation costs by approximately 40 percent. The cost of inaction—letting the temperature rise 3 degrees Celsius above preindustrial levels instead of 2 degrees— could increase economic damages by about 0.9 percent of global output.
"To put this percentage in perspective, 0.9 percent of estimated 2014 U.S. Gross Domestic Product (GDP) is approximately $150 billion," according to the report. "Moreover, these costs are not one-time, but are rather incurred year after year because of the permanent damage caused by increased climate change resulting from the delay."
The report is the first of several announcements by the Obama administration on climate change. On Tuesday, the U.S. Department of Energy announced initiatives to curb methane emissions, which accounted for about 9 percent of the country's greenhouse gas pollution in 2012. The Energy Department recommended incentives for modernizing natural gas infrastructure, and it plans to establish efficiency standards for natural gas compressors as well as improve advanced natural gas system manufacturing.
The same day, several companies and nongovernment groups committed to support a new Food Resilience theme in the president's Climate Data Initiative. The initiative leverages data and technology to help businesses and communities better withstand the effects of climate change. Companies like Microsoft are helping to organize data sets and tools in the cloud that will enable the assessment of vulnerable points in the food system, such as the effects of climate change on our food system and the reliability of food transportation and safety.
Hearings Fuel Debate on Clean Power Plan
During public hearings in Denver, Atlanta, Pittsburgh and Washington, D.C., the U.S. Environmental Protection Agency (EPA) heard testimony from the public on its proposed Clean Power Plan, which would limit greenhouse gas emissions from existing power plants.
In Washington, D.C., many utilities and industry groups were critical of the plan's climate benefits and called on the EPA to conduct further economic analysis before issuing its final rule in June 2015. In Atlanta, others said the plan did not account for steps they've already taken to reduce emissions.
"This rule is flawed," said Mississippi utility regulator Brandon Presley (subscription). "States like Mississippi, who have fought to pull themselves up and get a program to help customers reduce energy costs and reduce energy consumption, kind of get slapped away from the table."
In their testimony, many environmental groups sought greater emissions reductions from the power sector as well as increases in renewable energy generation and programs that reduce electricity demand. Some members of the public, like retired coal miner Stan Sturgill of Kentucky, agreed with these groups' request for tougher restrictions.
"Your targets to reduce carbon dioxide pollution by 2030 are way too low and do not do enough to reduce our risk of climate change," said Sturgill, who suffers from black lung and other respiratory ailments. "The rule does not do near enough to protect the health of the front line communities from the consequences of this pollution. We're dying, literally dying, for you to help us."
The EPA is asking states to meet carbon emissions targets that would result in a 30 percent reduction in power sector carbon dioxide emissions from 2005 levels by 2030. States are given flexibility in how they achieve the targets.
Representatives from 13 western states met last week to discuss the EPA's proposal and to begin considering the advantages of working together in response to the rule.
"We're in the process of determining what makes sense for us, including working with other states in a regional market," said Camille St. Onge, spokeswomen for Washington's Department of Ecology.
United States Imposes Energy-Related Trade Constraints
The U.S. Commerce Department placed proposed new import penalties on solar products from China and Taiwan. These penalties come on top of anti-subsidy tariffs imposed on some panels from China last month.
The new proposed penalties, still to be confirmed, aim to curb the sale of low-cost solar panels and cells, a practice known as dumping, from other countries in the U.S. market. If confirmed, they would impose duties as high as 165 percent on some solar companies in China and 44 percent on those in Taiwan. The Commerce Department has issued only preliminary findings, but final rulings are expected from the Commerce Department later this year.
The move has China's Commerce Ministry saying Washington's actions risk damaging the solar industry in both countries.
"The frequent adoption of trade remedies cannot resolve the United States' solar industry development problems," an unnamed Chinese official told Reuters.
In the United States, reactions to the news were mixed.
"Today's actions should help the U.S. solar manufacturing industry to expand and innovate," said SolarWorld Industries America President Mukesh Dulani. "We should not have to compete with dumped imports or the Chinese government."
But Rhone Resch, CEO of the U.S.-based Solar Energy Industries Association, condemned the decision, saying the answer lies in a negotiated solution.
Chinese companies supplied 31 percent of the solar modules installed in the United States in 2013 and more than 50 percent in the distributed solar market.
On Tuesday, the United States and the European Union issued new economic sanctions on Russia, citing the country's involvement in the Ukraine crisis. The sanctions ban the export of energy-related technology for use in Russian oil production from deepwater, Arctic offshore and shale oil production rock reserves. However, exports of technology for gas projects to the country, which holds the world's largest combined oil and gas reserves, will continue.
The Climate Post offers a rundown of the week in climate and energy news. It is produced each Thursday by Duke University's Nicholas Institute for Environmental Policy Solutions.