First Things First: Senators John Kerry and Joe Lieberman last week unveiled their draft energy and climate legislation, called the American Power Act, in a Senate committee room overstuffed with lobbyists, policy wonks, journalists and other observers. The bill's authors must steer it through the "usual" complexity intrinsic to the climate debates, and now too through the political storms over immigration reform and the Deepwater Horizon oil spill in the Gulf of Mexico. Economic modeling is expected to take another few weeks at executive agencies, although first impressions have emerged in the media and on the Web, including the Pew Center on Global Climate Change, Time, Peterson Institute for International Economics, Natural Resources Defense Council, Covington & Burling, and the Center for American Progress. In the meantime, Kerry held a mini-launch event in Washington with T. Boone Pickens, the oil-and-gas financier turned energy policy activist.
Within the next three weeks senators are expected to vote on a measure that would nullify the Environmental Protection Agency's 2009 finding that greenhouse gases are pollutants under the Clean Air Act. Sen. Lisa Murkowski's resolution probably will not pass, but she and colleagues are eager to voice disapproval of the White House's energy policy, particularly as Senate Majority Leader Harry Reid decides how to proceed on the issue.
A new Pew Research Center poll has found that just 32 percent of Americans agree it is "very important" for Congress to act on climate change, compared with 81 percent on the economy and jobs, and 67 percent on U.S. energy needs.
To Cap or Not to Cap: The Deepwater Horizon blowout continues to absorb time and attention from many people in the energy and climate space. The prospect of major legislation typically prompts a suite of committee hearings on Capitol Hill. The last two weeks, hearings about the Gulf have dominated the schedule. President Barack Obama won the news cycle for a day last week by calling the testimony of BP, Transocean, and Halliburton executives a "ridiculous spectacle." Democrats would like to raise the cap on oil spill liability damages, from $75 million to $10 billion, or, as Reid prefers, no limit at all. Republicans have opposed such measures.
BP has siphoned up to 5,000 gallons a day from the broken pipe, and in the next few days should be ready to try to halt the gusher by jamming it. The EPA slapped BP for deploying toxic dispersants over the oil slick at the surface, and on Wednesday asked the company to provide a list of alternatives–and to start using one within three days.
A live shot of oil streaming from the sea floor is now available here, after a request from Rep. Ed Markey (D-Mass.), chairman of the Select Committee on Energy Independence and Global Warming.
Gusher from Climate Scientists: Markey's committee held a hearing on science and climate politics today, which comes after  increased public activity in the scientific community. They're aiming at critics who are unduly skeptical or dismiss the physical evidence of manmade climate change.
The National Research Council weighed in this week with three reports on climate science, mitigating against change, and adapting to impacts. In Limiting the Magnitude of Future Climate Change, a panel led by Robert Fri of Resources for the Future argues for atypically strong policy measures. The researchers recommend that the U.S. abide by a strict carbon "budget," to last from 2012 to 2050, a period when greenhouse gas emissions should drop between 80 and 50 percent below 1990 levels. The panel calls the recommendation "a significant departure from business as usual," and bases conclusions in part on Stanford University's Energy Modeling Forum. The implementation advice is pretty standard, even if the voice isn't. The National Academy is saying here in no uncertain terms: "Adopt an economy-wide carbon pricing system."
The reports came out a day after the price of a carbon dioxide emission permit on the Chicago Climate Futures Exchange fell 2.4 percent, to $2.05, on doubts that climate legislation will pass this year.
In Line With Predictions: Howard Kurtz, media critic of the Washington Post, recently brought national attention to how the national media missed the disastrous recent flooding in Nashville. But in doing so, he omitted the topic of global warming. Such floods are in line with climate change predictions. Kurtz quotes Mark Silverman, editor of the Tennessean: "In journalism, [Silverman] says, 'everyone wants to have a villain. But there are no villains yet, except for Mother Nature.'" And, increasingly likely, except for unchecked industrial emissions and deforestation.
The National Oceanic and Atmospheric Administration reported that last month was the warmest April on record, and the 34th consecutive April above the 20th century average. The 2010 January to April average was hotter than any similar period in the record.
Defining Moment Seeks Definition: This week the New York Times' Tom Friedman stands out amid the cacophony of articles evaluating the Obama administration's response to the Deepwater Horizon disaster, mostly for putting forth this provocative argument: "No, the gulf oil spill is not Obama's Katrina. It's his 9/11 — and it is disappointing to see him making the same mistake George W. Bush made with his 9/11." (If nothing else, the comparison is shocking to people whose primary association with 9/11 is mass murder.) Friedman writes that he's disappointed with Obama for squandering momentum after a major event lays bare the dangerous core of our energy system. He laments that the president has offered no vision paramount to the problem, and has hidden his bullpen of science and policy advisors — Energy Secretary Steven Chu, EPA Administrator Lisa Jackson, chief science adviser John Holdren: "I know endangered species that are seen by the public more often than them."
Eric Roston is Senior Associate at the Nicholas Institute and author of The Carbon Age: How Life's Core Element Has Become Civilization's Greatest Threat. Prologue available at Grist. Chapter about Ginkgo biloba and climate change available at Conservation.
First Things First: Let's first pause for a moment to recognize where we are. Three U.S. Senators took the mantle for climate and climate leadership in this Congress, Senators John Kerry, Lindsey Graham, and Joe Lieberman. Over a series of many months, involving many colleagues, many industries, and many advocacy groups, they emerged with the seed of a new deal that might satisfy competing constituencies. The framework (reportedly) has something for everyone, a cost for emitting greenhouse gases, expanded nuclear power, and offshore oil exploration. Environmental groups, frequently splintered, circled their wagons to support the effort.
Then came two explosions, one political, one physical. In a surprise move last month, Senate leadership fast-tracked immigration reform ahead of energy. That caused Graham to step back from the climate legislation. And then came the Gulf oil disaster. What started out as an already ambitious climate effort is now engulfed with immigration politics and an intensified national fight over offshore drilling. That's where we are. And yet…
…Uncertainty Springs Eternal: "Graham says 'impossible' to pass climate bill now" reads an online headline at the Washington Post (above an AP story). The finality of the statement promises to clear remaining doubt that the Senate will not be able to pass legislation in the wake of the oil spill. Some senators would never vote for a climate-and-energy bill without provisions for expanding offshore drilling. Some senators would never vote for a climate-and-energy bill with those provisions. Game, set, match, before immigration reform is even broached. Or vice versa–until you remember that in politics nothing is ever over.
Congress DailyAM: "Graham Says Climate Measure Has a Chance Over Time"
E&E Daily: "Graham says he could vote for energy bill, but oil spill requires a timeout"
Roll Call: "Graham Sees No Hope for Climate Bill This Year"
and, not to be discounted…
Greenwire: "Senate bill to be rolled out on Wednesday"
Here's what Graham  said in a release after the E&E Daily story ran.
Fly on the Wall: Der Spiegel obtained "audio recordings of historical significance," two 1.2 gigabyte sound files "that were created by accident" at the 15th Conference of Parties (COP-15) climate negotiation in Copenhagen last December. The magazine reconstructs an hour and a half of a meeting with 25 heads of state. The prime ministers, presidents, and other leaders gathered to discuss undercooked material hurriedly assembled by advisers and negotiators in the waning days and hours of the conference. "When has it ever been the case at an international conference that world leaders had to concern themselves with such minor details?," Der Spiegel asks, and finds an answer from UN chief negotiator Yvo de Boer: "I don't think anything like this has ever happened, and I'm not sure whether something like this will ever happen again."
Some participants and observers at Copenhagen have charged that China obstructed discussions, most vividly by dispatching a diplomat to a heads-of-state meeting. In those tension-filled days, China was already undertaking what the New York Times reports as history's largest six-month increase in greenhouse gas pollution by one country. The emissions trend prompted Premier Wen Jiabao to call a special cabinet session to address the nation's energy binge and decline in energy efficiency. The jump is a taste of what's ahead as Chinese consumers continue to electrify their lifestyle, and the economy moves from light to heavy manufacturing.
Every week there are stories about "bad China" (see previous paragraph) and "good China," the emerging world leader in clean tech. "Good China" is frequently wielded as a rhetorical bludgeon in op-ed discussions. Here's this week's contribution, from Bruce Usher, an executive-in-residence at Columbia Business School.
Scientists Clear Their Throats: Political attacks on climate scientists continue. The Washington Post editorial page, host to George Will's occasional column-length scientific errors, labels "a chilling assault" the Virginia Attorney General's ferocious, ignorant queries into a climate scientist's records when he was a University of Virginia faculty member. Politicians have a responsibility to investigate fraud. But Michael Mann's case had been picked over for years, even before the e-mails hacked from the University of East Anglia were released late last year. AG Ken Cuccinelli has accused Mann of defrauding Virginia taxpayers by receiving grants to study climate change. In heated rhetoric atypical of Post editorials on climate change, editors declare that Cuccinelli has "declared war on reality" and on free academic inquiry.
Scientists, who speak in nuance, not absolutes, have been slow to respond adequately to opponents in politics and elsewhere, who speak in absolutes, not nuance.  This week 255 members of the National Academy of Sciences howl into the stratosphere over public attacks on well-understood scientific observations, including:
(i) The planet is warming due to increased concentrations of heat-trapping gases in our atmosphere. A  snowy winter in Washington does not alter this fact.
(ii) Most of the increase in the concentration of these gases over the last century is due to human  activities, especially the burning of fossil fuels and deforestation.
(iii) Natural causes always play a role in changing Earth's climate, but are now being overwhelmed by human-induced changes.
(iv) Warming the planet will cause many other climatic patterns to change at speeds unprecedented in modern times, including increasing rates of sea-level rise and alterations in the hydrologic cycle. Rising concentrations of carbon dioxide are making the oceans more acidic.
(v) The combination of these complex climate changes threatens coastal communities and cities, our food and water supplies, marine and freshwater ecosystems, forests, high mountain environments, and far more.
The lead author of this important and timely statement from 255 scientists published a new book this week, called Bottled and Sold. Peter Gleick is a leading global expert in water and climate change, and co-founder and president of the Pacific Institute in Oakland. He recently answered the question, What's "the best argument against global warming"?
A Nudge in the Other Direction?: Behavioral and social scientists continue to offer intriguing glimpses into how people understand, and misunderstand, climate and energy issues, sometimes peppered with tempting ideas to "nudge" change along. One result: People are more likely to cut electricity use if they're told how much more they use than their neighbors. Such studies launched innumerable discussions, from academia to cocktail parties, and at least one company.  New research suggests limitations to this particular nudge: Liberals might go for it more than some conservatives. The latter ignore the peer pressure in greater numbers, or even increase energy use as an "act of defiance."
Eric Roston is Senior Associate at the Nicholas Institute and author of The Carbon Age: How Life's Core Element Has Become Civilization's Greatest Threat. Prologue available at Grist. Chapter about Ginkgo biloba and climate change available at Conservation.
First Things First: IBM will ask its 28,000 suppliers to monitor and disclose their energy use, heat-trapping gas emissions, waste, and recycling. Spread across 90 countries, the suppliers are compelled to install software designed to help firms understand their impact–if they want to continue working with the computing and services giant. "Ultimately, if a supplier cannot be compliant with requirements on the environment and sustainability, we'll stop doing business with them," said IBM's John Paterson.
In Washington, the policy community anticipates in the next week or so the first public draft of a new Senate climate and energy bill. The bill will not surface on Earth Day, April 22, according to Sen. Lindsey Graham (R-S.C.). "We don't want to mix messages here," he said, "I'm all for protecting the Earth but this is about energy independence."
Capping It All off: The New York Times declared "cap-and-trade" dead several weeks ago, only to quietly run a sort of non-correction correction last weekend. The draft Senate bill is expected to create a market in which regulated companies can buy and sell permits to emit heat-trapping gases.
Leaks from the Senate suggest that the bill, written by Senators John Kerry (D-Mass.), Graham, and Joe Lieberman (I-Conn.), would impose limits on the industrial pollution of heat-trapping gases and allow regulated companies to buy and sell emissions permits. The utility sector would initiate the program in 2012, followed by heavy industry in 2016. The Senate bill will treat transportation fuels differently, requiring a "fee" levied after products are refined, and before drivers pump it into their vehicles. This sector-by-sector approach to climate policy has been greeted with some openness from a few Republican lawmakers, including Senators Lamar Alexander (R-Tenn.) and Scott Brown (R-Mass.). Would new support offset a loss of support among Democrats angered by President Barack Obama's recent announcement to expand offshore oil exploration?
When the troika introduces the bill, responsibility for moving it into the Senate goes to Majority Leaders Harry Reid. "His challenge could not be tougher," writes Darren Samuelsohn in ClimateWire. Reid will try to navigate the bill to the Senate floor at the same time he's juggling a new Supreme Court nomination, financial reform, and a rough re-election campaign. Graham and Kerry modestly disagreed on the possible implications for the climate bill of the Supreme Court confirmation process.
The Senate bill will reportedly also contain a provision that eliminates both the Environmental Protection Agency's new greenhouse gas regulations, and state and regional climate programs. That would halt development of programs including the Western Climate Initiative. The WCI this week previewed a new analysis that projects an average price of about $33 to emit a ton of carbon dioxide in 2020. States could continue programs that improve energy efficiency or set renewable energy standards.
Down-to-Earth Business: Is most discernable "movement" in the environmental arena to be found this year in the private sector? Reuters finds supporting evidence. The still-tough economic climate encourages firms to cut waste and inefficiency, and sustainability offers a common approach. Strained consumer budgets discourage spending on premium "clean" products. (The consumers who are interested in shelling out a little bit more for a greener product might note that the EPA and Department of Energy's Energy Star label just became stricter.) The trend calls to mind a catch-phrase of Gregory Unruh, a corporate sustainability expert affiliated with the Thunderbird School of Global Management: "Embed it and forget it." He writes in his new book, Earth, Inc.: "We'll reach the sustainability destination when we embed the principles that account for the biosphere's sustainability to business practice in profitable ways" [pdf introduction].
Energy efficiency is the fastest path to sustainability for many companies, and by extension the least intrusive way for policymakers to push climate-and-energy goals forward. This week Nicholas Institute Senior Policy Associate Etan Gumerman co-authored an ambitious, widely received study with Professor Marilyn Brown of Georgia Tech that concludes smart policy should bring vast energy and financial savings. The modeling study shows that a suite of nine policies could result in $41 billion in energy bill savings, the creation of 320,000 new jobs, and a water savings of 8.6 billion gallons in 2020. "We looked at how these policies might interact, not just single programs," Gumerman said. "The interplay between policies compounds the savings. And it's all cost-effective. On average, each dollar invested in energy efficiency over the next 20 years will reap $2.25 in benefits." The study was picked up by numerous major and trade media outlets across the country, and is available here.
Universities are stepping up their training of America's future workforce. Engineering students increasingly seek programs that specialize in sustainability, drawn by renewed interest in industry and pushed by current and expected new government policies. US News and World Report writes, "Today's engineering students are reacting to having grown up in environmentally 'perilous times.'" [Duke's Pratt School of Engineering includes an environmental engineering initiative as one of its four academic pillars.]
In the Clear: A panel dismissed charges of scientific fraud and other accusations levied against researchers affiliated with the Climate Research Unit at the University of East Anglia. Ron Oxburgh, an earth scientist, former defense adviser, and former Shell chairman, and colleagues pinged the climatologists for not consulting closely with top statisticians when they conduct their statistics-driven analysis of temperature records and proxy records. A statistician on the review panel said it was unlikely statistical errors undermine the basic science.
Cat Exits Open Bag: The Guardian publishes a memo detailing U.S. communications strategy in international climate talks. The document was found "on a European hotel computer and passed to the Guardian," which doesn't offer much of a clue for pinpointing who might have left it there. At the top of the list: "Reinforce the perception that the US is constructively engaged in UN negotiations in an effort to produce a global regime to combat climate change."
Genie Exits Bottle:A volcanic eruption in Iceland has grounded aircraft in the U.K. and Europe, but early reports suggest it's too small to have a noticeable short-term cooling effect globally. Sulfate aerosols released in volcanic explosions tend to have a cooling effect on the atmosphere. One controversial idea to manage climate change is to mimic eruptions by spraying aerosols into the high atmosphere from aircraft. For more on this and other "geoengineering" ideas, see (both!) of two great new books on the topic, Hack the Planet, by Eli Kintisch of Science, and How to Cool the Planet, by Jeff Goodell of Rolling Stone. I happily "blurbed" the former, and reviewed the latter recently in BusinessWeek.
Social media, such as Facebook and Twitter, are making previously obscure monthly data dumps from NOAA and NASA into regular conversation pieces among observers to the climate arena. The March numbers came out this week and zipped across blogs and news sites:
The combined global land and ocean average surface temperature for March 2010 was the warmest on record at 13.5 deg C (56.3 deg F), which is 0.77 deg C (1.39 deg F) above the 20th century average of 12.7 deg C (54.9 deg F). This was also the 34th consecutive March with global land and ocean temperatures above the 20th century average.
It's worth asking, particularly as Earth Day queues up next week, will climate data eventually make it big as an economic indicator?
Why Isn't the Keeling Curve More Famous?: For a couple of weeks, I've had a tiny bee in my bonnet along these lines and I finally figured out why. It's this sentence in the Washington Post review of Ian McEwan's new novel, Solar (I mentioned this in this space two weeks ago). Here:
The subject, though, is hot. Whether or not carbon dioxide is accumulating in the atmosphere, there's no denying that novelists are warming up to the subject. [Emphasis added]
Initially I was just hung up on how someone hoping to come across as an informed person, or who is supposed to be an informed person, could string together these words with a straight face. The larger problem is that this is just one signal–anecdotally reinforced elsewhere–that many smart, educated, successful people don't know that carbon dioxide is increasing in the atmosphere.
If Earth Day has any singular goal at all, and I've never been convinced, it should be this: Make the Keeling curve more famous. Deutsch Bank recently bought a huge billboard across the street from Madison Square Garden in New York City. It has a running tally of the tons of carbon dioxide humans have put into the atmosphere, in the spirit of the famous National Debt Clock. But what would happen if instead it were the Keeling Curve? With other Keeling Curves in Times Square, at the New York Stock Exchange, in Parisian art installations, projected on clouds on Earth Day like the Bat signal. What do the neuroeconomists and behaviorists say about this? Is there a Keeling Curve app yet for the iPad?
What do you think?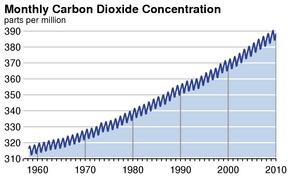 Graph courtesy Scripps Institution
Eric Roston is Senior Associate at the Nicholas Institute and author of The Carbon Age: How Life's Core Element Has Become Civilization's Greatest Threat. Prologue available at Grist. Chapter about Ginkgo biloba and climate change available at Conservation.