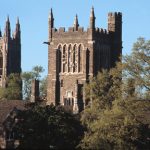 On Tuesday, a lawyer hired by the world's largest coal mining company told the House Energy and Commerce Subcommittee on Energy and Power that proposed requirements to reduce carbon dioxide emissions from power plants are reckless, and Senate majority leader Mitch McConnell of Kentucky, in an op-ed, said states should ignore them, but U.S. Environmental Protection Agency (EPA) administrator Gina McCarthy warned that the regulations will be enforced whether or not states chose to cooperate.
"The EPA is going to regulate. Mid-summer is when the Clean Power Plan is going to be finalized," McCarthy said, noting that the EPA is developing a federal implementation plan that will apply to states that fail to submit their own compliance plans. "If folks think any of those pieces aren't going to happen and [the Clean Power Plan] isn't going to be implemented, I think they need to look at the history of the Clean Air Act more carefully. This isn't how we do business."
A new policy brief by Duke's Nicholas Institute for Environmental Policy Solutions offers a compliance pathway for the EPA's proposed Clean Power Plan that allows states to realize the advantages of multistate and market-based solutions without mandating either strategy. Under the common elements approach, states develop individual-state plans to achieve their unique emissions targets and give power plant owners the option to participate in cross-state emissions markets.
"States wouldn't necessarily have to mandate market-based approaches or even endorse the approaches," said Jonas Monast, lead author and director of the Climate and Energy Program at the Nicholas Institute. "What it would require is the states using a common definition of what a compliance instrument is and ensuring that somehow the credits are verified and tracked."
The common elements approach would allow cross-state credit transfers without states' negotiation of a formal regional trading scheme, leave compliance choices to power companies, build on existing state and federal trading programs and maintain traditional roles of state energy and environmental regulators.
Carbon Footprint of Crudes Varies Widely
A first-of-its-kind oil-climate index, produced by the Carnegie Endowment for International Peace's Climate and Energy Program in collaboration with Stanford University and the University of Calgary, captures the huge spread between the most and least intensive greenhouse gas (GHG) oils. By calculating the carbon costs of various crudes and related petroleum products, the authors suggest that companies and policymakers can better prioritize their development.
The index reflects emissions from the entire oil supply chain—oil extraction, crude transport, refining, marketing, and product combustion and end use—and reveals an 80 percent spread between the lowest GHG-emitting oil and the highest in its sample of 30 crudes, representing some 5 percent of global oil production. That spread will likely grow when more types of crude oil, particularly oil from unconventional sources, are added to the index.
The lead emitter? China Bozhong crude, followed by several Canadian syncrudes derived from oil sands-extracted bitumen.
A blog post for the Union of Concerned Scientists suggested that the wide emissions spread should give rise to "more responsible practices like capturing rather than flaring gas" and that in some cases "the dirtiest extra-heavy resources are best left in the ground."
The index, which highlights that attention to the entire lifecycle of a barrel of crude is critical to designing policies that reduce its climate impacts, was released days before the International Energy Agency reported that for the first time in 40 years of record keeping, carbon dioxide emissions from energy use remained steady in 2014. The halt, the report states, is particularly notable because it is not tied to an economic downturn.
More Renewables, Tougher Standards for Public Lands
Secretary of the Interior Sally Jewell previewed plans to make energy development safer on public and tribal lands and waters in a speech outlining priorities for the Obama administration's final years.
"…our task by the end of this Administration is to put in place common-sense reforms that promote good government and help define the rules of the road for America's energy future on our public lands," Jewell said. "Those reforms should help businesses produce energy more safely and with more certainty. They should encourage technological innovation. They should ensure American taxpayers are getting maximum benefit from their resources. And they should apply our values and our science to better protect and sustain our planet for future generations."
Among the measures to be unveiled in coming months: tightened spill prevention standards for offshore drilling, increased construction of solar and wind installations and a raise in royalties from coal mining.
Jewell also hinted at plans "in coming days" to propose rules governing hydraulic fracturing on public lands, which are believed to hold about 25 percent of the country's shale reserves.
The Climate Post offers a rundown of the week in climate and energy news. It is produced each Thursday by Duke University's Nicholas Institute for Environmental Policy Solutions.