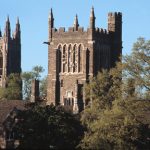 Editor's Note: The Climate Post will not circulate next Thursday, April 26. It will return on Thursday, May 3.
The Regional Greenhouse Gas Initiative (RGGI), a nine-state carbon cap-and-trade program, continues to help lower emissions of carbon dioxide and benefit local economies, according to a new study by the Analysis Group. The study estimates that RGGI states gained $1.4 billion in net economic value from program during 2015–2017.
"I think this provides evidence of the fact that you can design a carbon-control program in ways that really are avoiding a drag on the economy and, in fact, actually helping to put more dollars in consumers' pockets," said Sue Tierney, a senior advisor with the Analysis Group and a member of the Nicholas Institute for Environmental Policy Solutions Board of Advisors.
RGGI, the first market-based regulatory program in the United States, is a cooperative effort implemented through separate authorities in Maryland, New York, Delaware, Connecticut, Maine, Massachusetts, New Hampshire, Rhode Island and Vermont to create a "cap" that sets limits on carbon dioxide emissions from the power sector—a cap lowered over time to reduce emissions. Power plants must purchase credits or "emissions allowances," either from the regulators at auction or from other entities that can over comply, but the entire pool of such allowances is limited to the cap.
The study suggests that carbon dioxide emissions from power plants in the nine-state region have dropped by more than 50 percent since the program was launched in 2009. In the last three years, the program "has helped to lower the total amount of dollars member states send outside their region in the form of payments for fossil fuels by over $1 billion," report authors write. "RGGI has lowered states' total fossil-fired power production and their consumers' use of natural gas and oil for heating."
Brian Murray, a Nicholas Institute faculty affiliate and director of Duke University's Energy Initiative, published a study in the journal Energy Economics in 2015 that had similar findings. It concluded that even when controlling for other factors—the natural gas boom, the recession, and environmental regulations—emissions would have been 24 percent higher in participating states without RGGI. 
Nuclear Plants' Economic Woes Could Threaten Clean Energy Growth
An analysis released by think tank Third Way explores the effect of three potential levels of premature nuclear plant closures (20 percent, 60 percent and 80 percent) on carbon emissions in the U.S. power sector. It finds that much of the shuttered generation will likely be replaced by natural gas, increasing emissions. Even if the lost capacity was entirely replaced by renewables, the analysis finds that the U.S. would still suffer a setback in its clean energy growth.
Failure to prevent early retirements of nuclear plants, it says, could unwind years of climate progress achieved by the U.S. power sector and jeopardize the Obama-era goal of reducing greenhouse gas emissions by 80 percent of 2005 levels by 2050.
Some 20 percent of U.S. electric power, and 60 percent of our zero-carbon electricity, comes from nuclear generation. Nearly half of U.S. nuclear plants are at or near the end of their 40-year licensed operating lives. These units have received 20-year license extensions, but starting around 2030 they will reach their 60-year limits. At this point, they must receive a second license extension or retire.
Nuclear power struggles to compete in an era of cheap natural gas and renewables. A few weeks ago, FirstEnergy announced that three nuclear plants will be prematurely deactivated by 2021. The utility asked for an order, under Section 202 of the Federal Power Act, to save them. On April 5, President Donald Trump said he would consider issuing just such an emergency order through the Department of Energy (DOE)—a move opposed by the American Petroleum Institute in a letter to the president, after the DOE opened an unofficial comment period on the matter last week.
If nuclear power is to be part of a U.S. climate change strategy over the next century, The Third Way argues that policymakers must address its increasingly precarious economics.
Their analysis concluded that more state-level policy efforts and expansion of zero-emissions credits programs could help curtail nuclear plant closures and incentivize growth in the clean energy source.
I recently wrote in The Conversation that extending federal tax credits to nuclear recognizes the societal benefits offered by that generation source and that without mechanisms for monetizing social benefits from carbon-free generation, new nuclear power plants are unlikely to be constructed. Such mechanisms could include a carbon tax to penalize high-carbon fuels and reward low-carbon and carbon-free sources and aggressive promotion of mature new nuclear reactor designs that could take up some demand currently met by retiring plants.
Emissions Standards Could Have Big Impact on California, Other States  
Earlier this month, U.S. Environmental Protection Agency Administrator (EPA) Scott Pruitt, announced that greenhouse gas emissions standards for cars and light duty trucks should be revised. Although he did not indicate how far the rules should roll back, only that the EPA would begin drafting new standards for 2022–2025 with the National Highway Traffic Safety Administration, he did call out California, which is authorized under the Clean Air Act to set its own fuel standards. The move could spark a legal battle between the EPA and California about standards.
Privately, officials from the Trump administration and California, along with representatives of major automakers, may be searching for a compromise, The New York Times reports. Although a lawsuit is under consideration, Mary Nichols, the chair of the California Air Resources Board, said Tuesday she sees hope for a deal with the Trump administration over fuel economy and emissions standards.
"Reason could prevail," Nichols said at Bloomberg New Energy Finance's Future of Energy Summit in New York. "There's a way to get to success, unless your goal is to roll over California and not allow us to have any standards."
She told the Detroit Free Press that "if there are ways to eliminate things that aren't contributing to overall environmental performance, we're absolutely open to talking about them."
For California, and the other states with transportation sectors that emit at least twice as much carbon as power plants—Massachusetts, New Jersey, New York and Washington––what happens with the vehicle emissions standards could affect states' overall greenhouse gas emissions targets, reports ClimateWire.
The Climate Post offers a rundown of the week in climate and energy news. It is produced each Thursday by Duke University's Nicholas Institute for Environmental Policy Solutions.