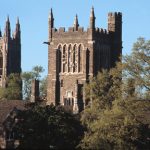 President Donald Trump is expected to sign an executive order directing the U.S. Environmental Protection Agency (EPA) to dismantle Obama-era climate rules, including the Clean Power Plan, which sets limits on carbon dioxide emissions from existing fossil-fuel fired power plants. Originally expected this week, GreenWire reports that according to a White House official the order "may be pushed beyond this week."
It was unclear until now if the Trump administration would "repeal and replace" the Clean Power Plan, or just set upon a path to undo it, but the executive order will only call for the withdrawal of the regulation, according to sources (subscription). It could also instruct the Justice Department to effectively withdraw its legal defense of the climate rule in the U.S. Court of Appeals for the District of Columbia Circuit.
Like other executive orders recently signed by the president, this one would not, by itself, roll back the Clean Power Plan. Altering a final rule, like the Clean Power Plan, isn't as simple as the stroke of a pen. It will likely require the EPA to undertake a new rulemaking process, including public notice and comment that could last a few years.
Unless Congress amends the Clean Air Act or the Supreme Court reverses prior opinions, the EPA retains its authority—and a legal obligation—to regulate greenhouse gases under the Clean Air Act. The question then becomes which Clean Air Act program is appropriate for the EPA to fulfill its legal obligation—the authority that underpins the Clean Power Plan or another provision of the Clean Air Act—and how the Trump administration believes that authority should be deployed in its discretion.
And while members of the Trump administration remain split on whether to follow through with campaign promises to withdraw from the Paris Agreement, the European Union (EU) pledged to "reinvigorate EU climate diplomacy … taking into account the latest developments and changing geopolitical landscape." The EU may be looking to Canada to help ensure the agreement is implemented.
Oil and Gas Industry No Longer Required to Report Methane Emissions
U.S. Environmental Protection Agency (EPA) Administrator Scott Pruitt withdrew an Information Collection Request order issued by the Obama administration in November requiring the oil and gas industry to report information about their equipment and operations in an effort to rein in leaks of methane. The order, which took effect immediately, was the EPA's first step to regulate methane emissions from the sector.
In November, the EPA sent letters to more than 15,000 owners and operators in the oil and gas industry requiring them to provide information on the numbers and types of equipment at onshore oil and gas production facilities, as well as information on methane emissions at the sites.
A letter sent to the EPA by the attorney generals of Alabama, Arizona, Kansas, Kentucky, Louisiana, Mississippi, Montana, Oklahoma, South Carolina and West Virginia expressed concern with the requirement, prompting the withdrawal.
"By taking this step, EPA is signaling that we take these concerns seriously and are committed to strengthening our partnership with the states," Pruitt said. "Today's action will reduce burdens on businesses while we take a closer look at the need for additional information from this industry."
Senate Approves Rick Perry as Energy Secretary, Ryan Zinke as Interior Lead
Last week, the U.S. Senate confirmed two department heads who will have considerable influence on how the country approaches energy issues from funding of advanced energy projects to use of public lands for oil and gas extraction.
In a 62–37 vote, Rick Perry was confirmed as head of the U.S. Department of Energy, the agency he vowed to eliminate during his failed 2012 presidential bid and at the helm of which he faces tough issues related to regulatory reach, efforts to mitigate climate change, and potentially deep cuts in agency staffing and spending. He now is responsible for maintenance of the nation's nuclear arsenal and 17 national laboratories that conduct research into energy technologies that could help fight climate change, a phenomenon he has questioned. During his confirmation hearings he acknowledged that human activity has contributed to warming, a sharp pivot from the global cooling cover up he advanced in his 2010 book, Fed Up! Our Fight to Save America from Washington.
As governor of Texas, Perry presided over big increases in his state's wind power and shale oil drilling. During his Senate confirmation hearing, he said he would seek to develop American energy in all forms—oil, gas, nuclear, and renewable—and that he would rely on federal scientists to pursue "sound science."
He replaces Ernest Moniz, a nuclear physicist who led technical negotiations in the 2015 Iran nuclear deal and successor of Steven Chu, a Nobel Prize-winning physicist.
By a vote of 68 to 31, former Montana Rep. Ryan Zinke was confirmed as secretary of the Department of the Interior, where he assumes oversight of 500 million acres of public land, including 59 national parks. Zinke, who has questioned climate science and expressed support for expanding mining and oil and gas development on public land, will now head up the National Park Service, the U.S. Geological Survey, the Bureau of Reclamation and the Bureau of Indian Affairs.
During Senate committee hearings on his nomination last month, Zinke said one of his first priorities would be to fix deteriorating infrastructure at parks under the National Park Service. But he gave little clue about how he would act on other issues as head of the department whose agencies decide how resources such as coal are managed and which animals are eligible for listing under the Endangered Species Act.
He did say that federal land should be managed under a multiple-use model that allows hiking, hunting, fishing and camping along with timber harvesting, coal mining and oil and natural gas drilling.
Meanwhile, one of Trump's confirmed cabinet members, Scott Pruitt, who was approved by the Senate last month and sworn in as EPA administrator,
The Climate Post offers a rundown of the week in climate and energy news. It is produced each Thursday by Duke University's Nicholas Institute for Environmental Policy Solutions.