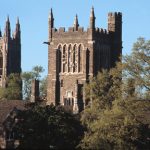 A week after the Paris Agreement to limit global warming met requirements to come into force, the subject of climate change was referenced only once in Tuesday's second U.S. presidential debate—after audience member Ken Bone posed the question "What steps will your energy policy take to meet our energy needs while at the same time remaining environmentally friendly and minimizing job loss for fossil power plant workers?"
"I have a comprehensive energy policy," Democratic candidate Hillary Clinton responded in the town-hall style debate, "but it really does include fighting climate change, because I think that is a serious problem. And I support moving to more clean, renewable energy because I believe we can be the 21st century clean energy superpower."
She prefaced the remark with a nod to the significance of expanded natural gas production.
"We are … producing a lot of natural gas, which serves as a bridge to more renewable fuels, and I think that is an important transition," said Clinton, who two days later delivered a climate change message in Florida with Al Gore.
Republican candidate Donald Trump did not mention climate change but did assert support for renewables and clean coal, which he suggested would be an option for another millennium.
"Now, I'm all for alternative forms of energy, including wind, including solar," Trump said, "but we need much more than wind and solar … There is a thing called clean coal. Coal will last for 1,000 years in this country."
The short shrift given climate change during the debate did not match its popularity in an online poll organized by the Open Debate Coalition. Four questions on climate and energy made the poll's top 30 crowd-sourced questions, which moderators of Sunday's debate had agreed to consider. Of some 15,900 questions garnering 3.8 million votes in the poll, the fourth most popular was "What are the steps you will take to address climate change?"
In the two presidential debates so far, presidential candidates have mentioned "climate change" and "energy" only a few times. Yet, as highlighted by a report we have just co-published with Harvard and the University of North Carolina, the next administration will, through a combination of market forces, statutory deadlines, pending lawsuits, and open agency rulemakings, be forced to tackle a wide range of energy issues. The resulting decisions could shape the electricity sector for decades to come, and the chosen candidate will certainly play a large role in how the United States deals with climate change.
Study: Western Fire Season Worse Due to Climate Change
A new study in the journal the Proceedings of the National Academy of Sciences suggests that climate change impacts have made forests in the western United States drier and easier to burn, adding more than 16,000 square miles of forest fire area since 1984.
"We're no longer waiting for human-caused climate change to leave its fingerprint on wildfire across the western U.S. It's already here," said lead author John Abatzoglou, a climatologist at the University of Idaho.
Rising temperatures that make the air drier and draw out moisture from vegetation have increased the likelihood of burning, according to annual wildfire data and climate models used by the authors.
"Climate change is playing a substantial role in the variability of fire activity … and we expect that to continue into the future," Abatzoglou said. "The question is how are people going to respond to that."
Aviation Industry Agrees to Curb Emissions
Member states of the United Nations' International Civil Aviation Organization (ICAO) agreed to a market-based measure to offset the growth of emissions from international flights after 2020. The agreement, which involves 191 countries, caps carbon dioxide emissions at 2020 levels by 2035. Airlines will be encouraged to purchase credits through global carbon markets to offset their emissions for many flights beginning in 2021.
"Aviation can now claim its 'Paris moment,'" said Olumuyiwa Benard Aliu, the president of the ICAO council, in a statement following the news.
The agreement initially starts off with voluntary participation, which becomes mandatory in 2027 through 2035. The United States, United Arab Emirates, Singapore, and the aviation conference of the European Union (44 nations) have indicated they will participate in the voluntary portion of the agreement.
The Climate Post offers a rundown of the week in climate and energy news. It is produced each Thursday by Duke University's Nicholas Institute for Environmental Policy Solutions.