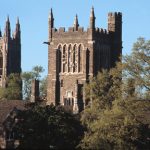 Editor's Note: Dec. 7–11 we will present a series of special issues of The Climate Post featuring updates on climate negotiations and commentary from our staff in Paris.
At the United Nations Climate Change Conference in Paris, world leaders on Monday suggested that stakes are too high to end negotiations on Dec. 11 without inking a climate deal that would limit global warming to two degrees Celsius over preindustrial levels—the U.N.-declared threshold for avoiding the most dangerous climate change impacts.
NPR reports that observers hope the deal will include three main items: agreement by countries to increase pledges in the future, a rigorous system of accountability to ensure nations keep those pledges, and support for poor countries to adopt low-carbon energy technologies.
A major sticking point for delegates of the nearly 200 countries meeting at the conference is the legal status of the treaty they hope to ink.
The Commonwealth and Europe have called for a deal to be legally binding. But the United States is looking to make only some aspects of it legally binding.
"Although the targets themselves may not have the force of treaties, the process, the procedures that ensure transparency and periodic reviews, that needs to be legally binding," President Obama said in Paris. "…that's going to be critical."
Countries Pledge Financing for Clean Energy, Withdraw It for Coal
Another key negotiating point in Paris will be whether developing countries get enough financing to make the transition to clean energy worth it given the comparative cheapness of coal. In an announcement intended to give the U.N. climate talks momentum, the leaders of 19 nations, including the United States and many developing economies, on Monday pledged a doubling of clean energy spending to $20 billion in a deal with 28 corporate leaders (the so-called Breakthrough Energy Coalition spearheaded by Microsoft co-founder Bill Gates) who are putting up billions of their own (subscription).
According to a White House e-mail, the public component of the public-private agreement, known as Mission Innovation, is aimed at helping energy technologies "cross the investment 'valley of death'" presented by their risk profiles and long return time horizons.
Brian Deese, White House climate adviser, said that Mission Innovation "should help to send a strong signal that the world is committed to helping to try to mobilize the resources necessary to ensure that countries around the world can deploy clean energy solutions in cost-effective ways."
In an editorial for the Boston Globe, U.S. Energy Secretary Ernest Moniz wrote that Mission Innovation and the Breakthrough Energy Coalition are "synergistic initiatives that establish clean energy innovation as a foundation for environmental stewardship, prosperity, security and social responsibility. Strong American leadership in these initiatives has provided a tremendous global leveraging opportunity, and innovation has remained common ground in our political discourse."
Three questions raised by the initiatives are whether a multinational research effort combining public and private investments could entail intellectual property problems, how much of the newly pledged money might represent formerly pledged funding, and whether the future funding will be approved in national budgets.
In the lead up to the Paris talks, some of the countries that just committed financial support for clean energy signed on to a deal to severely cut funding for some prospective coal projects. A promise by China to control its support for high-carbon projects overseas—part of its most recent climate agreement with the United States—allowed Japan and the United States to develop a proposal that last month became a less stringent agreement by members of the Organisation for Economic Co-operation and Development (OECD) to curb public financing for coal plants (subscription). Under the policy, which goes into effect in 2017 and will be up for revision in four years, OECD countries will continue to provide export credits for "ultra-supercritical" coal-fired power plants—those constructed to meet the most stringent environmental standards—but public financing for 85 percent of coal plants going forward would effectively be cut off. The agreement does allow support for less efficient plants with a capacity under 500 megawatts in the world's poorest countries.
House Votes to Block Power Plant Rules
The House approved, largely along party lines, to block the Obama administration's measures to reduce greenhouse gas emissions from power plants. The House voted 242–180 to repeal the Environmental Protection Agency's Clean Power Plan, which would limit carbon emissions from existing power plants, and 235–188 to block EPA rules governing emissions from new power plants. The votes come just weeks after the Senate passed legislation blocking U.S. Environmental Protection Agency rules that apply to new and existing power plants.
The resolutions now go to President Obama, who last month announced plans to veto them, claiming that they undermine public health protections of the Clean Air Act and "stop critical U.S. efforts to reduce dangerous carbon pollution from power plants."
The Climate Post offers a rundown of the week in climate and energy news. It is produced each Thursday by Duke University's Nicholas Institute for Environmental Policy Solutions.