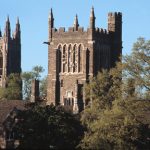 A U.S. Energy Information Administration (EIA) analysis released Monday reveals that the country's energy-related carbon emissions grew last year but more slowly than the economy as a whole, representing a decoupling of emissions and economic growth that is projected to continue through 2015 (subscription). Bloomberg reports that the difference in the emissions increase and the GDP increase—0.7 percent and 2.4 percent, respectively—is considered a sign that emissions reductions efforts are not restraining economic expansion.
"The more we can grow our economy without increasing emissions by the same amount of that economic growth, it means that other factors such as energy intensity and the amount of carbon dioxide released in the production of that energy are offsetting the economic growth," said EIA report author Perry Lindstrom in an e-mail to Reuters.
Confirmation of the second consecutive annual increase in U.S. carbon emissions comes on the heels of commitments by the United States to a 26–28 percent cut in those emissions from 2005 levels by 2025.
A recently released short-term forecast for U.S. power by Bloomberg New Energy Finance says that U.S. emissions-cutting efforts are about to get a huge boost. It projects that this year carbon pollution from the U.S. power sector will fall to its lowest level since 1994 as coal plants go offline and renewables come online. But a Duke University-led study based on 1,000 years of temperature records suggests that global warming is not progressing as fast as it would under the most severe emissions scenarios outlined by the Intergovernmental Panel on Climate Change.
Gas Flaring Initiative Aims to Capture Easy Emissions Reductions
The World Bank announced first-ever commitments by 9 countries, 10 oil companies, and all 6 global development institutions to end the practice of routine gas flaring at oil production sites by 2030. The "Zero Routine Flaring by 2030" initiative was launched by United Nations Secretary-General Ban Ki-moon and World Bank Group President Jim Yong Kim, who said the voluntary agreement will cut 40 percent of the global gas flaring that each year results in 300 million tons of carbon dioxide emissions—equivalent to emissions from approximately 77 million cars.
No U.S.-based companies have signed onto the initiative, which the World Bank and U.N. are using to build support for the U.N.-hosted climate conference aimed at forging a global climate agreement in Paris later this year.
"We think that to eliminate routine gas flaring is the low-hanging fruit on the climate agenda," said Bjorn Hamso, the World Bank's program manager for the Global Gas Flaring Reduction partnership. "Oil-producing countries who decide to join us in this effort, they can make that CO2 reduction part of their contribution to the negotiations in Paris."
Signatories to the initiative will publicly report their flaring and progress toward the target on an annual basis and will prohibit routine flaring in new oil fields developments.
U.S. Energy Infrastructure Requires "Significant Change"
To deal with the challenges of climate change, new technology, a changing energy supply and national security in the coming years, the U.S. electricity sector will require major modifications, according to a new report by the Obama administration.
"The United States' energy system is going through dramatic changes," said U.S. Energy Secretary Ernest Moniz. "This places a high premium on investing wisely in the energy infrastructure we need to move energy supplies to energy consumers."
The report notes that the U.S. energy infrastructure—2.6 million miles of interstate and intrastate pipelines, about 640,000 miles of transmission lines, 414 natural gas storage facilities, 330 ports handling crude and petroleum and refined petroleum products and more than 140,000 miles of railways that handle crude petroleum—is outdated. It calls for billions in new spending programs and tax credits to modernize this system's grid and oil and gas and transportation infrastructure. Among the approaches it recommends are these:
Establish a Department of Energy-run program that provides financial assistance to states to encourage cost-effective improvements that would accelerate pipeline replacement and enhance maintenance programs for natural gas distribution systems.
Promote grid modernization with a proposal in the President's Fiscal Year 2016 budget request.
Make infrastructure investments that optimize the Strategic Petroleum Reserve and have Congress update release authorities to reflect modern oil markets.
Increase integration of energy data among the United States, Canada, Mexico and other countries.
Improve quantification of emissions from natural gas and provide funding for the Diesel Emissions Reduction Act.
The Climate Post offers a rundown of the week in climate and energy news. It is produced each Thursday by Duke University's Nicholas Institute for Environmental Policy Solutions.