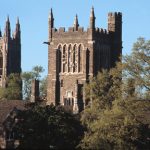 In 2012, energy-related carbon emissions in the United States declined 3.8 percent even as global carbon dioxide emissions rose 1.4 percent, according the U.S. Energy Information Administration (EIA). The recorded 5.29 million metric tons of carbon dioxide amounted to the largest decline since 1994, continuing a downward trend that started in 2007. EIA attributed last year's decrease to several factors, including a mild winter and alterations in energy consumption for transportation. Notably, U.S. power plants reduced their carbon emissions by 10 percent between 2010 and 2012. The overall energy-related emissions decline occurred in tandem with an increase in gross domestic product and energy output (subscription).
The downward trend may not last, The Washington Post reports. Energy-related emissions rose 2.6 percent in the first part of 2013, and the EIA expects emissions to keep rising. The U.S. State Department said the nation could reduce its emissions of greenhouse gases 17 percent by 2020, if it enacts proposed rules to curb methane leaks and to cut pollution from power plants. The U.S. Environmental Protection Agency is taking steps to solidify regulations. This week, it began its 11-city "listening tour," which is intended to solicit ideas from the public on how to best regulate emissions from more than 1,000 power plants currently in operation.
Cleanup Delayed for Fukushima as Britain Signs First Nuclear Deal
Japan delayed plans to clean up towns surrounding the Fukushima Daiichi nuclear plant for up to three years—affecting more than 90,000 people who are unable to return home after a series of meltdowns following an earthquake and tsunami two and half years ago. The original plan indicated cleanup of the most contaminated towns would be completed by March 2014.
"We would have to extend the cleanup process, by one year, two years or three years, we haven't exactly decided yet," said Shigeyoshi Sato, an official from the Environment Ministry in charge of the decontamination efforts. One reason for the delay—a lack of space to store the radioactive waste that comes out of the decontamination process.
Meanwhile, the United Kingdom signed a roughly $26 billion deal to build new nuclear reactors—the first in 20 years—financed in part by China. The twin reactors are envisioned to advance the government's goal of adding low-carbon energy sources. If built on time, the new reactors would begin operation in 2023 and operate for 35 years.
Studies Look at Climate Change Effects in Next Century
Several studies, looking at everything from ocean health to energy use, have found their way into recent media headlines.
New Climate by 2050: Research published in the journal Nature suggests that, on average, locations worldwide will leave behind the climates that have existed from the middle of the 19th century through the beginning of the 21st century as soon as 2047, depending on the amount of greenhouse gases emitted during the next few decades. The new, more extreme temperatures would first occur in the tropics, where plants, people and wildlife are least equipped to adapt. About 1 billion people, according to the study, currently live in areas where the climate would exceed historical bounds of variability by 2050. The work highlights the need to scale back greenhouse gas emissions because a warming climate may drive some species to extinction, threaten food supplies and spread disease.
Climate Change to Impact Ocean Health: Every inch of the world's oceans are predicted to undergo chemical changes associated with global climate change by 2100, according to research published in the journal PLOS Biology. More than two dozen scientists used projections from the Intergovernmental Panel on Climate Change, along with biological and socioeconomic data, to predict how oceans could be altered by the end of the century.
"If global CO2 emissions are not reduced, substantial degradation of marine ecosystems and associated human hardships are very likely to occur," the study said.
This follows research published in Nature showing that if greenhouse gas emissions continue at their current rate, coral reefs could be extinct by 2050.
Carbon Capture and Storage Development Slows: A new study suggests that since 2012, the number of projects that capture carbon dioxide emissions from power plants dropped from 75 to 65 worldwide. Although the number U.S. is a global leader in developing and deploying carbon capture and storage and carbon capture utilization and storage technology, it has proposed no new projects in these areas—in fact, no new projects have been proposed outside of China.
The Climate Post offers a rundown of the week in climate and energy news. It is produced each Thursday by Duke University's Nicholas Institute for Environmental Policy Solutions.